When I was first elected to the Baltimore County Council in 2010, more than a dozen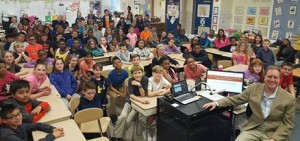 public schools that serve our district lacked air conditioning.  This fall, that number has dropped to one—Dumbarton Middle School, which will reopen next September after a $28 million renovation.
I would like to thank my colleagues in state and county government for their support, but also the parents and community leaders who testified for these critical improvements.  Advocates from Chapel Hill, Kingsville, Oakleigh, and Pleasant Plains Elementary Schools made their concerns known.  For the first time, these schools will reopen with air conditioning.
I am working hard to reduce overcrowding throughout Baltimore County.  In the northeast, construction has started on Perry Hall's first new school in 25 years—the elementary school at Joppa and Chapel Roads.  Another elementary school will open after 2020 in the South Perry Hall area, and the new Nottingham Middle School in 2021.
Towson High School remains our priority in the central part of Baltimore County.  We are working with parents and community leaders to secure funding for a Twenty-First Century building. Learn more at http://www.thsnewin22.org.