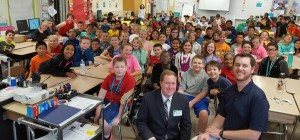 County Councilman David Marks has worked on issues that are common to many communities across the Fifth District, including traffic, development, and education. He has also focused, however, on initiatives that are specific to different communities, from the Charles Street corridor to the Harford County line. Learn about Councilman Marks' work in the eastern, central, and western sections of the Fifth District.
Perry Hall, Fullerton and Kingsville. In the eastern part of the Fifth District, Councilman Marks downzoned a historic amount of land to lighten school overcrowding.  He secured funding for a new northeastern elementary school.  Councilman Marks helped create new greenways and parks, and he developed a commercial revitalization district to provide loans and grants to businesses.
Carney, Parkville, and Loch Raven. Councilman Marks lightened development in the sensitive Cromwell Valley.  He secured full-service status for the Loch Raven library and brokered an agreement to improve the long-congested intersection at Harford and Joppa Roads.  He championed the construction of the first park along the Loch Raven Boulevard corridor in a half-century.
Towson. In the county seat, Councilman Marks has worked to revitalize the downtown core while preserving the quality of life of Towson's neighborhoods.  He championed an initiative that boosted open space funding from Towson developments, and he secured funding for improvements at three Towson schools, including a renovation of Dumbarton Middle School.