How would you feel if you woke up one morning, and Baltimore County was suddenly building a multi-story parking garage next to your backyard?
That is what happened to residents along Wildwood Road in Anneslie when Baltimore County authorized construction of a multi-story garage earlier this year.
The county had talked about replacing the 273-space garage at Drumcastle Center with a 500-space facility for several years.  Despite numerous requests, however, my office was never given the final plans, and the Anneslie community was never notified that construction was imminent.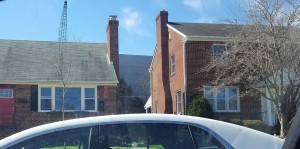 I have submitted legislation that would require that the County Council to be notified prior to the construction of any county garage, and that such notice be placed on the County Web Site.  Furthermore, any garage located in or near a residential community would need to be landscaped in accordance with the Baltimore County Landscape Manual.
This is a timely issue because, in addition to the Drumcastle Center garage, there are other garages in Downtown Towson that are nearing the end of their lifespans.  At least three major residential buildings—the Palisades, the Penthouse, and The Flats @703—are within short walking distance to county-owned garages.  Those residents should have notice and the opportunity to comment before construction advances.