This weekend, I was honored to be named a "Hero of the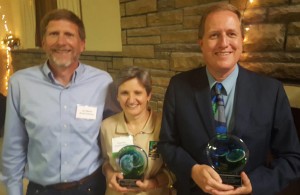 Green" by the Gunpowder Valley Conservancy, along with longtime GVC official Peggy Perry. This award recognizes outstanding leadership in preserving and improving the Gunpowder River Valley.
I am humbled by this recognition, and in my remarks I credited the many individuals and organizations with whom I have collaborated, from other elected officials to Scout troops to neighborhood organizations.
The Gunpowder Valley Conservancy is one of the most successful environmental advocacy groups in central Maryland. It has been a highlight of my Council tenure to work with them on land preservation and water quality projects.
Congratulations as well to Peggy Perry, the Program Director of Education and Restoration at the Gunpowder Valley Conservancy.  She has helped direct environmental improvement projects at the Jennifer Run in Carney and at the Maryland State Fish and Game Protective Association in Perry Hall.