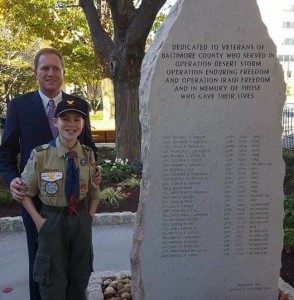 David Marks is proud to represent Baltimore County's seat of government, Towson, on the County Council. Not only is Towson the county seat, but it is a center for law, medicine, and higher education, as well as home to some of the most desirable and historic neighborhoods in Maryland.
Councilman Marks has worked hard to revitalize Downtown Towson while protecting the quality of life of neighborhoods that surround the commercial core.
Revitalizing Downtown Towson
Preserving Open Space
Downzoned a historic amount of land to preserve green space in Greater Towson. READ MORE >>
Passed legislation that boosted the open space funding from developments in Downtown Towson. READ MORE >>
Championed three new parks for Towson:  Radebaugh Park off Burke Avenue; Adelaide Bentley Park in Historic East Towson; and the greening of Patriot Plaza in Downtown Towson. READ MORE >>
Secured funding to expand and improve Towson Manor Park. READ MORE >>
Created a task force to develop recommendations for the Herring Run watershed, and helped the Knollwood Association obtain a grant to begin work on improvements. READ MORE >>
Helped preserve the green buffer between Towson University and the Southland Hills neighborhood.
Persuaded the developer of the Brightview Towson and Towson Green projects to donate funds for trees and community improvements in Burkleigh Square. READ MORE >>
Stood with the Rodgers Forge community by successfully opposing the destruction of trees at the Dumbarton Middle School campus. READ MORE >>
Strengthening Towson's Schools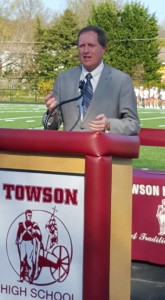 Championed the construction of additions at Stoneleigh and Hampton Elementary Schools to reduce overcrowding, and secured county funding to renovate and air condition Dumbarton Middle School. READ MORE >>
Helped secure funding for new artificial turf fields at Carver and Towson High Schools. READ MORE >>
Fought to maintain the "walker policy" for students near Cromwell Valley Elementary Regional Magnet School, and to lessen the impact of changes to the magnet policy. READ MORE >>
Building a Transportation System for Everyone
Secured funding to reconstruct and improve Hillen Road and Burke Avenue in eastern Towson. READ MORE >>
Secured funding to resurface 12 miles of streets in Towson, including all of Anneslie; 13 routes in Rodgers Forge and Gaywood; nine routes in Towson Manor Village; and seven routes in West Towson. READ MORE >>
Championed the construction of bike lanes throughout Greater Towson. READ MORE >>
Sponsored legislation to require that new construction in Downtown Towson have bike parking—the first of its kind in Baltimore County. READ MORE >>
Worked with the Baltimore County Department of Public Works and the Maryland Department of Transportation to reduce truck traffic in Idlewylde. READ MORE >>
Modified the parking along Burke Avenue to give motorists exiting the interior of Burkleigh Square more sight distance as they leave the neighborhood.
Secured funding to build a sidewalk, traffic island, and pedestrian ramp at Stevenson Lane and Stanmore Road in Rodgers Forge.
Making Towson's Neighborhoods Safer and Stronger
Pushed hard for additional police officers in Towson, and supported the creation of new Citizens on Patrol units in Downtown Towson and West Towson. READ MORE >>
Sponsored nationally-recognized legislation to create a pilot program for addressing problem rentals in Towson. READ MORE >>
Secured funding to exterminate rats in eight neighborhoods in Towson and the Loch Raven Boulevard corridor. READ MORE >>
Convinced Towson University to double the grant to Baltimore County for Tigerfest security. READ MORE >>
Secured funding for more than 60 new trees at Kenilworth Drive and Bosley Avenue, replenishing the green buffer between the Morningside community and the Baltimore County Detention Center.
Advocated for historic designation for the Anneslie community. READ MORE >>
Secured funding to repair the Elks Lodge in Historic East Towson. READ MORE >>
Got the electronic signs at West Towson Elementary School removed in favor of more neighborhood-friendly signs, and helped pass legislation to protect the beauty of North Charles Street. READ MORE >> 
Got the county to place deed restrictions on the sale of a county property at 802 Overbrook Road in Idlewylde, preventing overdevelopment at the site.
Supported a financing package to rehabilitate the historic Aigburth Vale property, and worked with Baltimore County Code Enforcement to get the outbuildings torn down. READ MORE >>
Secured funding to address flooding in Overbrook and Stoneleigh. READ MORE >>
Helped mediate discussions between the Campus Hills Community Association and the AMF Towson Lanes bowling alley, generating 20 new protections for the neighborhood. READ MORE >>
Stood with the Rodgers Forge community by working to reduce the impact of the proposed Towson University softball project. READ MORE >>